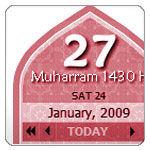 Sometimes ago, a visitor ask me after visiting my Hijri Calendar Converter Page: "how can i put the converter on my page?" Well, the answer at that time was a definite negative. Meaning, there was no way of displaying the widget on other page because of the complex networking of scripts and web components that I put together to realize the hijri calendar converter page.
It is not recommended to use the Flash-based widgets anymore. Please, use the online miladi to hijri calendar converter above.
Now, it is a pleasure to announce the release of a islamic calendar converter based on flash. The widget is styled to look like a traditional mosque's arch and brandished with islamic ornament on the background. Other current features of the widget are the ability to choose between Ummul Qura and Suggested Global  Islamic Calendar system. As with other hijri calendar widgets on my site, you u can adjust the date, the size and color.
UPDATE: Now the widget can be set to display the calendar in three languages, english, bahasa indonesia, or arabic.
Hope you find this useful.
Visit the hijri date converter page here!